Cocoa Daisy Sneak Peeks: Home Again
A HOUSE IS MADE OF WALLS & BEAMS. A HOME IS MADE OF LOVE & DREAMS.
Because of the US Thanksgiving holiday, Reveal Night will be moved up two days! Mark your calendar now for NOVEMBER 26th and join us on the message boards for the Reveal Night festivities. Same times, different date. Chatting starts at 8 PM ET, kits and add ons go on sale at 9 PM ET.
Many have penned words on the subject of home, but perhaps the best words of all come from Oliver Wendall Holmes when he said, "Where we love is home - home that our feet may leave, but not our hearts."
December's kit and add ons are all about that feeling of love and home. Featuring many Cocoa Daisy exclusives again, including the new wood veneers, we think you'll find all you need to focus on what makes your house a home with our December kit, Home Again, on sale to subscribers November 26th at 9 PM ET. Sales to the public will be at our normal day and time of December 1st at midnight.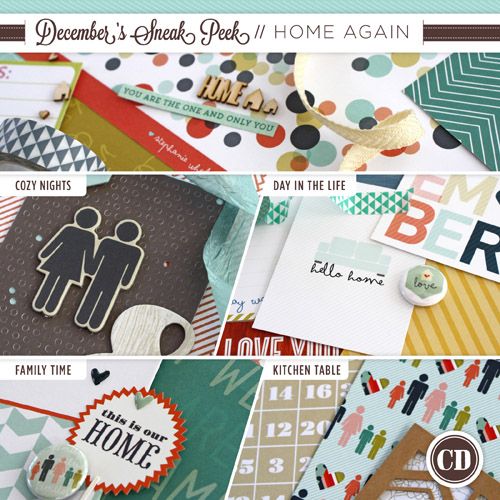 We think the December stamps are ones you'll reach for again and again. Perfect for organizing and categorizing, you'll want to get them all! And don't forget to try out our Cocoa Daisy ink pads, they are the perfect black. Or you can go for bright colors, we've got them too with our Prima chalk inks.